Keep Your Eyes On The Goal
We hear a lot about goal setting. On the whole I agree with all the suggestions. But my cat, Peanut, best illustrates how goal setting works for me.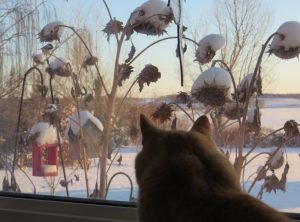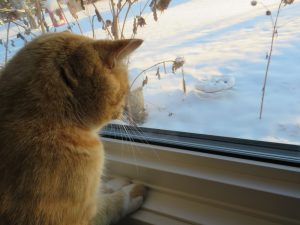 See him sitting on a desk looking out the window. Can you see the bird? He sure does and he makes plaintive little meows. He knows the window blocks him. He could go to the door and ask out but it would mean going into the cold. Making a long trek through the snow and then the birds would fly away before he got there.
I feel that way too, at times, especially with my writing. My own difficulty in starting in like that pane of glass. Basically, I like having written more than getting at my writing. I know there will be challenges–a closed door, a difficult trail and perhaps, disappointment. I tell ya, writing can be hard. But then, so is life. Especially if I dwell on the difficulties. Instead, I will choose to enjoy the sunrise, the sunset, the amusement of a cat on the desk and all the other good things that fill my life if only I pay attention to them.