Books


Montana Cowboy Daddy
First in the Big Sky Country series.
Oct. 2016
Amazon
Barnes & Noble

The Rancher's Ready-Made Family

With a little girl to raise, widowed single father Dawson Marshall could sure use some help—he just didn't expect it to come from city girl Isabelle Redfield. Dawson has encountered city women before. He even married one. What if his little girl grows attached to Isabelle and the woman tires of ranch life just like his late wife did?

For heiress Isabelle, the fledgling Western town of Bella Creek, Montana, offers something more meaningful than her wealth: a chance to forge a useful life. But if she wants the townsfolk to value her for more than her money, she has to keep her identity hidden. A difficult feat, especially when it comes to the cynical cowboy whose sweet daughter she cares for after school. But will hiding the truth ruin her chance of earning Dawson's love?


Brides of Idaho
October 2016
Amazon
Barnes & Noble

Step back into Idaho's gold country with the three independent Hamilton sisters. Glory has little reason to trust men, especially a preacher in a smoky saloon who looks like an outlaw. Mandy to have a family home, but when she starts building a house on land already claimed by a Missouri man, it is a race to see who can establish their claim first. Joanna befriends an orphan boy, but she won't risk her heart on his uncle, a cowboy wanderer who reminds her of her absentee father.


The Cowboy's City Girl
May 2016
Amazon
Barnes & Noble

Bride on the Ranch

Beatrice Doyle came to Montana to escape her father's marriage plans for her—not to lasso herself a cowboy. Yet she can't ignore the sparks that fly between her and Levi Harding while she's at his family's ranch, caring for his injured stepmother. But opening her heart would mean sacrificing her quest for independence…

After being rejected by the girl he hoped to marry, Levi vows never to love again. Nevertheless, he's drawn to big-city girl Beatrice. In her, the half–Native American rancher sees himself: someone a little bruised, a lot lonely. And when the two join forces to care for an orphaned girl, he yearns to heal their fractured hearts—and form the family they all long for.

Montana Cowboys: These brothers live and love by the code of the West



The Cowboy's Baby Bond
April 2016
Amazon
Barnes & Noble

An Honorable Cowboy

Determined single mother Willow Reames has one goal: to reunite with her sisters and begin a new life with them and her infant son. But when she's unexpectedly stranded in the Montana wilderness—with her siblings nowhere in sight—she needs to rely on the kindness of Johnny Harding.

It's more than honor that compels the half Native American cowboy to help the beautiful widow and her adorable baby. The little family evokes his masculine instincts to protect them. Soon woman-wary Johnny is cradling baby Adam in his arms and offering to assist Willow in finding her missing sisters. As their hearts slowly thaw, can Johnny convince Willow to trust him with the secret she's keeping so, just maybe, they can have a future together?




A book for your e-reader: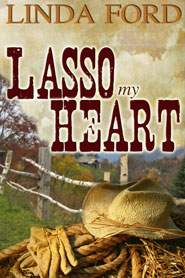 LASSO MY HEART
Montana, 1890
Available at Amazon
Jake is Clara's dead husband's identical brother. He's the bad twin. But without his help Clara stands to lose her ranch . . . and her girls. She soon discovers accepting his help means she could lose her heart. Is saving the ranch worth the risk?
Five years hard labor is the price Jake's paid for his brother's treachery. All he wants is justice. But how is he to get it when his brother is dead and his widow needs a man to take her place in the cattle roundup? Will he find justice in a form that clears his name? Or will his love for this woman force him to walk away?
Can this pair face the truth about the past? Most of all, can they follow their hearts and trust their love for each other?
Older Love Inspired Books:
The Cowboy's ReadyMade Family, March, 2016
A Home for Christmas, December, 2016
A Baby for Christmas, November, 2016
A Daddy for Christmas, October, 2016
Wagon Train Reunion, April, 2015
Big Sky Homecoming, February, 2015
Big Sky Daddy, December 2014
Big Sky Cowbogy, October 2014
Falling for the Rancher Father, May 2014
Winning Over the Wrangler, March 2014
Claiming the Cowboy's Heart, January 2014
The Baby Compromise, June 2013
The Cowboy's Unexpected Family, March 2013
The Gift of Family (in Merry Christmas, Cowboy)
The Cowboy's Surprise Bride, January 2013
The Cowboy Comes Home, March 2012
The Cowboy Father, February 2012
The Cowboy Tutor, January 2012
Once Upon a Thanksgiving
Klondike Medicine Woman
A Prairie Cowboy
Dakota Father
Christmas Under Western Skies
Dakota Cowboy
The Cowboy's Baby
Dakota Child
Prairie Romance

The Path to Her Heart

The Road to Love

The Journey Home
Older Heartsong Presents Books:
Joanna and the Footloose Cowboy - July, 2012