FULL OF POSSIBLITY-or how a story idea is born.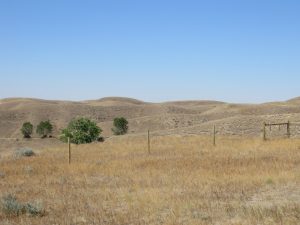 IS IT EMPTY AND DESOLATE OR….?
Yesterday I made a long drive south to Montana. The scenery varies–glimpses of the Rockies, the Sweet Grass Hills, deep river valleys and odd looking hoodoo formations. The picture above shows what much of the scenery is…rolling hills.
Some may think there is nothing to see here. But I see little bubbles of possibility. What lies beyond each summit? What treasures hide in the valleys? I imagine the wideness of the view,  the vastness of the blue sky, the tug of the wind and the searing heat of the sun.
My imagination goes deeper, wider and I see a young woman standing atop one of the hills, looking yearningly toward the south, her hand cupped over her eyes to shade them from the glare. She's waiting for a young man to ride toward her on his big black horse. A story is born. Or at least, the fledgling idea and the tugging emotion of it.
And yes, I guess that says I am a writer.
How about you? Even if you aren't a writer, what views call to the you in the depths of your heart?