SHROUDED IN MYSTERY…OR ROMANCE?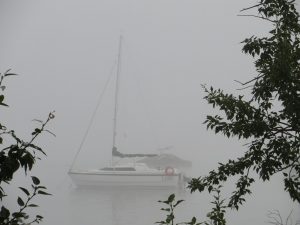 It was early in the morning. I was alone on the trail except for two runners and three people walking their dogs and they soon disappeared from view. The quiet was deepened by the fog. The boats moored along the shore were barely visible.
Something about those shrouded views drew my imagination. What would it be like to be on such a vessel out on the lake, unable to see more than a foot or two ahead? The idea was both inviting and a little fearful. Were the people on board running from something? Hiding? Escaping? Were they together reluctantly or following their hearts against all odds?
The fog made me think of writing. Doesn't everything? 🙂 I realize that the uncertainty and the possibilities of new story ideas pull at me. It's as I work on a story that the fog lifts and I begin to see the details. But those first quiet, foggy moments are exciting.
But a greater truth is evident in the fog. Life is uncertain. We never know what the future holds. Certainly, we plan and hope, but that's all we can do. However, whatever life holds, God is my rock and my anchor. We live by faith, not by sight. So go enjoy discovering what lies ahead. I plan to.