I am reading a book about travels on the Santa Fe Trail. (My copy is from the library and is plain brown.)
Often research involves ploughing through dry text. But not so in this book. The writer has a way of making the scene come alive.
I will share a couple of examples: '…the deer and the antelope bounded away from us. There were miles and miles of buffalo grass, blue lagoons and blood-red sunsets, and once in a while, a little sod house on the lonely prairie—home of some hunter or trapper.'
And this: 'Sometimes one of the mules would start a great braying, and the other would take it up making the night hideous.'
The narrator was but a child of 7 on her first trip along the Santa Fe Trail. 'Maid Marian," as she was known by the freighters and soldiers, made five round-trip crossing of the trail before settling down to live her adult life along its deeply rutted traces.'
As you might suspect from the topic of this book, I am researching for what I hope will be 6 books set along the Santa Fe Trail.
In the meantime, I have a new cover. this book is due out in April and is part of a continuity (three books written by three different authors). It is set in Texas so required I do research for that book as well.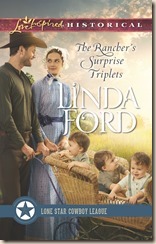 How important do you think research is to the writing of historical books?