We have two new lawn ornaments.
The first is a Rock Island steel wheel tractor. Can you imagine riding that thing for hours? My father-in-law used it. My husband operated it a time or two.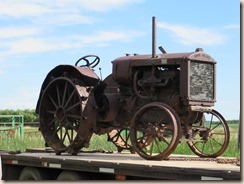 And now my son has 'driven' it into place.
Near as we can figure it was manufactured about 1928.
We now have a memento of the good old farming days.
Our second lawn addition is a little buck deer who has taken up residence in our trees. He seems content to share accommodations with us.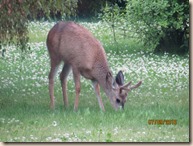 He's fun to watch as he plays in the trees. Yes, he might be eating my apple tree but a good pruning is beneficial. Right?
He doesn't bother running for shelter as we go in and out and as my client rattles up and down the ramp in his wheelchair. He seems to know we mean him no harm.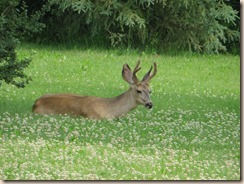 We're enjoying his company.