IT WAS A DARK AND STORMY DAY
I admit it. I can make anything about writing.

Take this week for example. We drove east an hour or two to attend a funeral. The sky was sunny and bright. The landscape green and lush. It felt peaceful and ordinary.
The funeral was…well, a funeral. A little bit out of he ordinary but not unexpected. But during the service, thunder rumbled and roared and it crossed my mind that we could sit there while a tornado threatened and not even be aware of it. At one point, I'm sure lightening struck the building. The lights went out momentarily. Several women screamed. Very spooky.
We left and headed back home. The storm followed us. Or maybe we followed the storm. The clouds went from threatening to more threatening. It rained heavily. Lightening flashed and thunder rolled.
Before we reached home blue sky beckoned.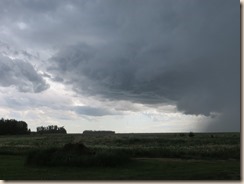 How, you ask, does this relate to writing? Well, it made me think of plot. First, the characters are making their way through life with little concern about what lies ahead. (Also called the Ordinary World). Then something changes…like a funeral that calls the characters to make a move. Still, things seem somewhat normal. But wait, problems and threats escalate—a storm, impending trouble. The trouble continues to escalate until the characters must go through a bad storm. But if the characters persevere, deal with the circumstances and use their growing skills, light breaks through and they conquer the challenges. They find their Happy Ever After.
Now if only plot was that simple and easy when I confront a new story which I am doing this week and for most of the summer.