I like it when I can see first hand the places I plan to write about. So this past week, I headed south to research the mountains of north-western Montana with a special regard to the gold rushes that took place there in 1867 and 1876.
The trip was most enjoyable. Forest fire smoke gave the mountains a smoky haze.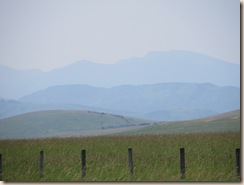 Seeing the fading layers of blue-gray makes me long to be able to paint what I feel. Words are far too inadequate.
Seeing the cattle on the green hills made me feel like I had stepped right into the life of one of my cowboy heroes. Can you picture yourself on horseback, your cowboy hat pushed back as you admire your herd? I can.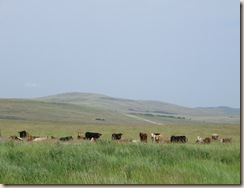 We took the scenic route south of the border along the Koocanusa Lake which meant that for 52 miles we followed a snake-shaped road down the mountain. Yes, the scenery was nice. I guess. I had to keep my eyes on the road. But I stopped to take this picture.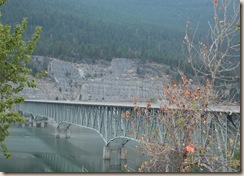 The Koocanusa bridge across the Koocanusa lake formed by the Libby dam across the Kootenai river. The lake is very long–about 90 miles–crossing the International border into BC. By the way, the lake was named in a contest. It combines the first three letters of Kootenai, Canada and USA.
More of the lake. (I stopped twice on my way down the twisty road)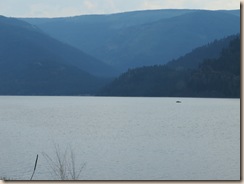 We arrived in Libby, Montana and stayed in the Venture Inn Motel (great place to stay).
My room: Yup, that's a recliner chair. Nice. And the desk was great for working on.
Libby has something like 70 statues of eagles. Most of them done by the same man. This one could be seen from my motel room.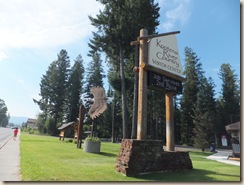 It was good to see the area. And equally good to get home. I'll share more of my trip next time.