THERE ARE THINGS ABOUT SNOW…
Yesterday we had scattered snow flurries. We've had enough snow already. But I confess there is something I like about it.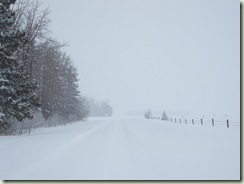 I like walking in falling snow.
Gently falling snow dusting my clothes, quietly sliding from my face. The world cloaked in purity, silenced so all I hear is my own breathing, my own muted footsteps. God-breathed beauty. 'Silence is the language of God, all else is a poor translation.' Rumi
One of my favorite poets-Robert Louis Stevenson put it this way:
The cold wind burns my face, and blows
Its frosty pepper up my nose.
Black are my steps on silver sod;
Thick blows my frosty breath abroad;
And tree and house, and hill and lake,
Are frosted like a wedding-cake.
(from his poem Winter-Time)
Am I the only one who enjoys this activity?