Except I do. Have a bird that is. Meet Scottie–a slightly neurotic African Gray Parrot.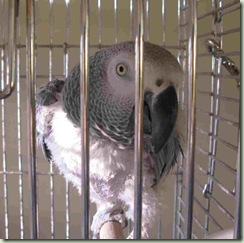 I enjoy Scottie's chatter…unless I'm on the phone or trying to listen to TV and he drowns me out.
I got a meadowlark bird stuffie at a museum in Montana on one of my research trips. When youu press the stuffie bird belly, it sings like a meadowlark. It wasn't long until Scottie picked it up. It's a cheerful song to hear in the morning.
He also says jerk, stupid cat (I guess I said that more often than I realized as I waited for the cat to amble over to the door. She always takes her time to test and see how long I'll wait.)
But back to Scottie. He whistles, he calls supper and he makes the sound of the microwave beeper. He mumbles and grumbles (He's not imitating me with this). He's messy. As one of the kids so aptly said, he's a litter bird. But he's amusing.
Oh. And he's a she as we discovered last year when he/she presented us with three eggs.
Pets are fun and help us enjoy life, don't you think?