I learned to type on a typewriter at school. Then I got a typewriter of my own– a sleek blue, portable one in a carrying case. In fact, I wrote some of my earliest articles on that machine.
I still get nostalgic about using one. I guess I'm not the only one. An instructor at Calgary's Alberta College of Art and Design has plans to bring them back to his classroom. You can read about it here.
The first typewriter that became commercially successful appeared on the market in 1874. I haven't seen one that old but I've seen a few unusual ones (according to recent standards.)
Both of these below were seen in the Bonners Ferry, Idaho museum.
Seen in Colorado museum. First one dated 1890. A Blickenspefer.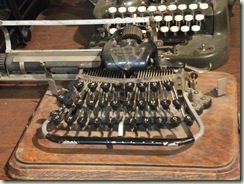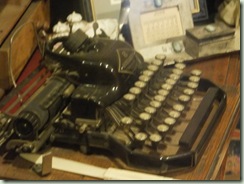 And one that might be more familiar to some old timers as seen in the Whyte Museum in Banff, Alberta.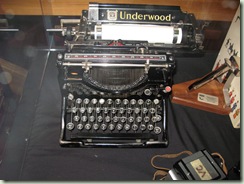 I enjoyed using a typewriter. I liked the way the keyboard was slanted and having to push the carriage back at the end of each line. I guess I'm not the only one because you can get typewriter keyboards and some innovative people have actually combined a typewriter with their laptop. Check out typewriter keyboard in your search engine for a look at what's available.
How many of you learned to type the old-fashioned way? Do any of you still use a typewriter? What do you think of the experiment at the Alberta College of Art and Design? Do you see any value in it?