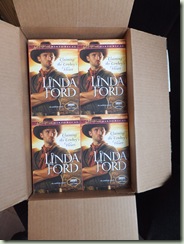 This box of books came a few days ago but I opted not to post it during the Remembrance Day weekend as I didn't want to distract from our thoughts toward those who have served.
But it's here. The next book in the Cowboys of Eden Valley series.
It was a challenging book to write. (It seems each book is challenging in its own way and they aren't getting any easier!).
The story came to mind when I had this picture of a woman and her friend (maid) traveling west on the stagecoach. I so clearly saw the maid ill and needing care so they get off the stagecoach and go to the only place that is suitable — the home of a recluse who is known to be most unwelcoming. This woman wasn't about to take no for an answer.
But that isn't the story I wrote. Perhaps I'll do it another time. There were a number of issues with the story I started with. The biggest one was it didn't take place at the Eden Valley Ranch so didn't belong in the series.
The heroine is Eddie Gardiner's sister, Jayne. She and two friends have traveled west to the Eden Valley Ranch–each for their own reasons and each with their own story.
Jayne witnessed the murder of her fiance back in England. It was a terrifying experience that has led her to the decision she will never again be unprepared to defend herself or those she cares about. But her first lesson in shooting leaves a handsome stranger injured. She insists on nursing him whether or not he wants it.
The cowboy recovers and that should be the end of it. But it's not. I hope you'll pick up the book when it is released in Jan. and read how these two cope with the dangers and challenges they encounter.
Despite my initial struggles to find the right story for these characters it ended up being a fun story to write.