I had an epiphany this week and it's worth noting because I don't often have one. In fact, I can't remember the last one but that could because of my poor memory.
Back to the epiphany. I was bemoaning to my writer friend, Carolyne Aarsen, with whom I brainstorm and share writing problems so we can discuss them.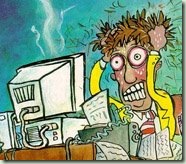 My complaint was after writing 40 stories, more or less, haven't I run out of things to put in a story? We both know the answer is no. New characters and new situation mean new story. Nevertheless, my concern was that it could no longer be fresh and new for the reader.
Shift gears with me for a moment. I love autumn sunrises and sunsets. I especially like the time they occur morning and evening.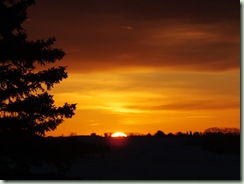 I was enjoying yet another sunrise when the epiphany came. God uses the sun, the sky and clouds over and over, twice daily for year after year after decade…well, you get the idea. Basically the same three ingredients and every sunset, every sunrise is different. Every one is beautiful.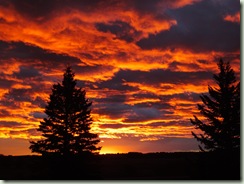 Now I realize I'm not the Creator but I found in encouraging to think I could take the same components of story–setting, character and plot–and hope to craft a fresh one every time.
So that's my great epiphany. Now go out and enjoy the sun, the clouds and the sky.
Lamentations 3:22, 23 Because of the Lord's great love we are not consumed, for his compassions never fail. They are new every morning; great is your faithfulness.