I do lots of things besides writing–laundry, housework, gardening and…wait for it…help shear alpacas.
It's an easy enough job because the man who does the shearing has an automatic table.
The animals don't seem to mind though they bleat. Of course they bleat and fuss even when they are not being handled.
The fleece comes off in blankets and is surprisingly soft. It makes the nicest yarn for knitting but has to be sorted, cleaned, carded, dyed, spun and I don't know what else.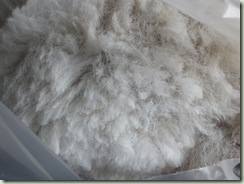 I have to share a picture of my granddaughter who is perfectly at home with these animals. Here she is playing with one of the nanny goats.
Or maybe the goat is playing with her.
You're wondering what I did to help. Or did I stand around taking pictures? Well, I did that but I also sorted the fiber and packaged it as it came off.