For want of a nail the shoe was lost.
For want of a shoe the horse was lost.
For want of a horse the rider was lost.
For want of a rider the message was lost.
For want of a message the battle was lost.
For want of a battle the kingdom was lost.
And all for the want of a horseshoe nail.
I've never given nails much thought. I can find one or a hundred almost anywhere–in the garage, in the junk drawer, in the shop. They lay about. We toss them in the garbage. Or we go to the hardware store and select a bag from bins of various sizes and styles.
But this summer I visited a museum and saw nails in a totally different light as I watched a blacksmith craft a nail such as would have been used probably until late in the 1700s or into the 1800s.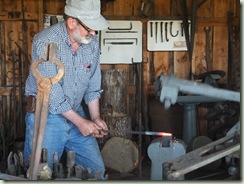 The end of a length of iron ore is heated and shaped.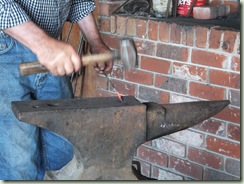 Then it is cut and the end pounded to give it a head.
Nails were so labor intensive that old buildings were burned to the ground and the nails salvaged.
My how times have changed. It seems we now live in a throw-away society. Life is easier in many ways but wasteful in others.
What part of our throw-away society gives you the most reason to pause? For me, I think it's all the packaging we get on everything from food to toys.
For more history on nails check out this site. http://www.glasgowsteelnail.com/nailmaking.htm
Oh by the way. Making nails wasn't the only thing they did in ancient blacksmith shops.