Yesterday we headed out on a 3 hour drive in husband's new truck. (They don't give those things away!!! Let's just say we basically sell the farm to buy a truck!) But he is going to drive all the way and I am going to work. You might ask what kind of work I can do when confined to a seat. Granted it is much larger than an airplane seat but still…
First, I can scribble barely legible notes on my story. I'm working on a story set in September so it's a perfect time of year to be on the road and refresh my memories of fall–the scents, the colors, the air. I try and imagine it without the power lines and the harvest equipment. There were dozens of combines on the fields. We counted 6 self-propelled green combines on one field. (to the non-farm people that means John Deere green…the only good color. Or so my husband says.) There is nothing to compare to the smell of a crop being harvested–the nutty, musty smell of grain. But I digress. In the era in which I am writing there would be no grain harvest or big green machines.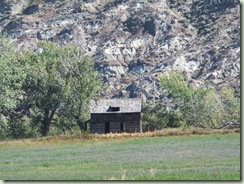 We go through a section of the badlands where there's an old house. I imagine the fortunate pioneers who claimed this spot right next to the river. I wonder what became of them and think of the challenges they faced as pioneers.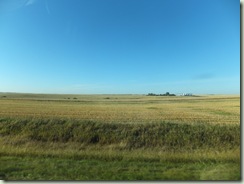 What were winters like for them?
The setting is quite a contrast to the landscape further on where the water was 100 feet deep or several miles away.
We pass a buffalo herd. Now that is something people of the era of my story would see occasionally.
Sometimes a road trip is just that. A time to relax and enjoy the scenery…an interlude to refresh my imagination. Or it can be a time to make notes for the upcoming scenes in my story. This trip was both.
By the way, the story I'm working on is Eden Valley Cowboys story #5. No title or release date yet. But the series begins with my Christmas novella released next month in the book, A GIFT OF FAMILY. It is followed by THE COWBOY'S SURPRISE BRIDE in Jan. 2013, THE COWBOY'S UNEXPECTED FAMILY in Mar. 2013, and THE COWBOY'S CONVENIENT PROPOSAL in May 2013. (And yes, there is an obvious theme.)