At bedtime last night, I found a gallon of ice cream in the microwave. I wish I could blame someone else but I can't.
Just as I wish I could say that's the first time I have done something totally stupid but it's not. My brain tends to take vacations without me.
I've been known to get to the overpass and actually head for Red Deer when I know I'm going to Calgary. I blame that on my sister who was talking to me. Or was I talking to her? Anyway it meant going to the next exit and returning via side roads until I could get back on the overpass.
I hate getting to the bottom of the stairs and forgetting why I've gone down there. Usually I can't remember until I go back upstairs and retrace my steps. I feel like the little boy in the cheese commercial going to get Gouda cheese. All the way he says Gouda, Gouda but when he gets there he forgets and comes home with Swiss. (Which proves this isn't age related. Whew. That's a relief.)
I have a lot on my mind so it's excusable if I make stupid mistakes. In fact I am so busy I feel like Wonder Woman.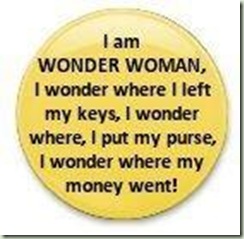 Note to brain: next time you go on vacation, please take me. And pick someplace exotic. Not the microwave.