I love the abundance of roses this time of year.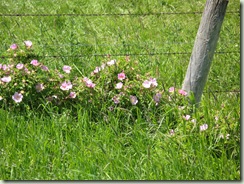 There are wild roses along the fence line.
There are roses in my yard.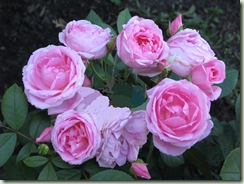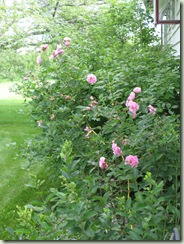 When I see roses I think of my mother and mother-in-law, who both loved roses. In fact, at each of their funerals we had a song with roses in it. For my mother-in-law, the song was: Where the Roses Never Fade:
I am going to a city,
Where the streets with gold are laid;
Where the tree of life is blooming
And the roses never fade.
Chorus:
Here they bloom but for a season
Soon their beauty is decayed.
I am going to a city,
Where the roses never fade.
In this world we have our troubles,
Satan snares we must evade.
We'll be free from all temptations;
Where the roses never fade.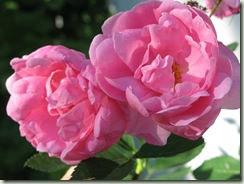 For my mother, my talented daughter, Kelsey (www.kelseyplowmanmusic.com), sang I Come To The Garden Alone:
I come to the garden alone
While the dew is still on the roses
And the voice I hear falling on my ear
The Son of God discloses.
Refrain
And He walks with me, and He talks with me,
And He tells me I am His own;
And the joy we share as we tarry there,
None other has ever known.
He speaks, and the sound of His voice,
Is so sweet the birds hush their singing,
And the melody that He gave to me
Within my heart is ringing.
My mother loved to paint and draw wild flowers.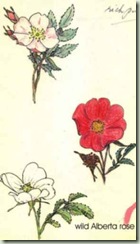 I remember the large set of colored pencils she cherished. I believe my father bought them as a gift for her. My siblings and I would bring her flowers we picked while roaming the prairie and she would sketch them. Here is one page out of her sketch book.
The season for roses is fleeting just as life is fleeting. "Gather ye rosebuds while ye may," poet Robert Herrick advised his readers. I add, enjoy the beauties of life, the people you love while you can.
To my mom and mother-in-law, thank you for the sweet memories and I look forward to the day I see you just inside the pearly gates.