I should keep a running journal of how I write. I know it would be full of sighs, getting up and doing something else—anything else. Why is it so hard to work? Even when I like the story? I mean what's not to like about a heroine who first shoots a man, albeit by accident, then devotedly nurses him?
But I need a distraction. Okay I don't NEED one. But it would be nice if someone would send me an interesting email. Instead all I have is a note promising me that if I 'invest' $100 I can make $300. Yeah. Like I'm that stupid. Or bored. Or anything!
Maybe someone has posted some nice pictures in Facebook. There are some beautiful pictures at this site. https://www.facebook.com/pages/1000000-Pictures/237513286345629
Wait. I hear the washing machine shut down. I'll go throw the load into the drier and put another in the washer.
I'm back. With snacks. It is 12:48. I am seriously going to concentrate for. . . well, awhile. My friend told me 90 min. is the longest a person can seriously concentrate. I'm aiming for 15 min.
12:56. I didn't even make 10 min. without taking a break. 90 min. would kill me.
I'm reading over what I've written in the fourth book of my Cowboys Of Eden Valley series. This series will begin with a Christmas novella in Oct.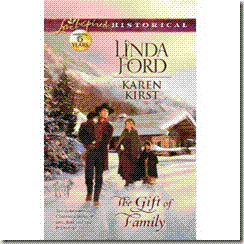 Followed in Jan. by THE COWBOY'S SURPRISE BRIDE and in Mar. by THE COWBOY'S UNEXPECTED FAMILY. A third title–yet to be determined will be release soon after that.
I had to quit writing it about 2/3 of the way through in order to deal with edits, revisions, etc. That was a month ago so I need to read it over to figure out where I am with it. I found some nice tension. I like this "Seth closed his eyes as the past collided with his present. He'd always tried his best not to think too much or too often of Frank."
I'm hoping I can get back in the story and find the same tension, the same voices for each character.
1:15. Oh good. An email that 'requires' my attention. Done that. Must. Get. To. Work. 90 min. of concentration. That has to be a typo!
1:25. Someone drove in the yard. They've come to visit client but I have to let them in. See all the interruptions aren't my doing.
1:29. No more excuses. I am going to concentrate for 30 min. Ready. Set. Go.
2: Yah. Made 30 min. Then had to take care of client.
2:30 Back to work.
3:00 Yup. Made it for another 30 minutes. I must be getting better. Too bad it will soon be time to stop for the day.
Empty washer and drier. Get a cup of coffee.
3:18 Back to work. Gotta make the last part of the day REALLY count.
4:15 Done. Did 12 pages. Not too shabby but imagine what I could do if I could concentrate!! There are lots of articles about how to focus, how to concentrate, how to make the most of your time. I read them and laugh. Whatever the 'secret' is, it doesn't work for me. I am my most productive when I am distracted.
That's my story and I'm sticking to it.