This weekend is a province wide celebration of the arts. Many communities are having art walks, talks and entertainment.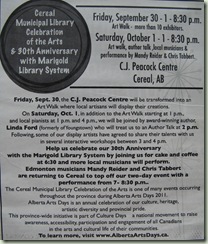 I was invited to speak at the Cereal Library. Our kids once attended school there so I readily agreed.
The displays were impressive–paintings, jewelry, photos, scrapbooking, quilts and from two more Ford family members…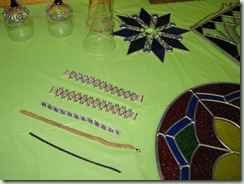 Stained glass by Lori and chain mail bracelets by Sierra.
I talked about being a writer and gave away books.
It was a great day. I even managed to edit a manuscript on the trip out there and back (about 3 hours each way). My husband drove so I wasn't working while behind the wheel.