INTERVIEW WITH WINNIE GRIGGS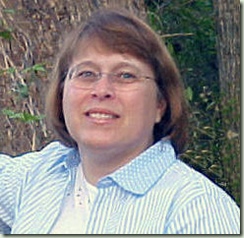 Winnie and I both have a novella in the Thanksgiving release out this month.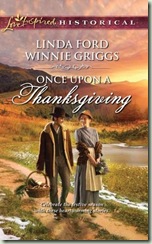 I thought you might enjoy getting to know a little bit about her. She has kindly done an interview.
Welcome, Winnie, and thanks for visiting.
Please tell us about yourself.
I've been married for over 30 years to my college sweetheart. We live in a small rural community in NE Louisiana and together have raised four children who are now adults. I have a BS degree in Mathematics which I put to use working for an electric utility company in several different capacities. I'm happy to say I've now retired from that day job and can focus more of my time to family and to writing.
How and why did you get started writing?
I've always been an avid reader and turning to writing just somehow seemed to be a natural extension of that for me. I've always dabbled a bit with writing but I didn't seriously decide to try my hand at novel length work until the early nineties when I got my first home computer.
Tell us about your first sale. How long did it take to sell your first book?
The first book I sold was actually the second full length novel I completed. At that point I'd been seriously pursuing publication for about five years. As far as the first book I wrote, I eventually rewrote that one and it was my fourth sale.
What valuable lessons did you learn on your journey to publication?
There were several. But the two most important were the value of having friends in the writing community for mutual encouragement and support. And the second is that there is no substitute for actually sitting down in front of your computer and doing the work.
What do you know now that you wish you'd known then?
That you have to protect your own voice. It's important to get feedback on your writing from others that you trust, but at the same time you don't want to fall into the trap of trying to implement everything you hear to the point that the story is no longer yours and that your voice becomes 'sanitized' so that all of the unique things that you bring to the table get lost.
How would you describe your stories? What themes, archetypes, etc. do you use?
My stories are stories of small town America and revolve around themes of community and belonging.
Are you a serious plotter? A pantzer? Or something in between the two?
I suppose I fall somewhere in between. I do usually know my story at a high level before I get started, but most of the actual scenes and details come to me as I write.
What is the best part about being an author? The worst?
The best part – building these worlds where no matter what the obstacles and problems, you can bring it all to a happy conclusion.
The worst – the stress of deadlines and the pressure to continually produce a work that is better than the last.
What is a typical day like for you?
LOL – there is no such thing as a typical day for me.
What are your other interests?
I enjoy cooking and estate sales.
Tell us about your upcoming releases.
This month I have a novella (in the same anthology as your current release) titled Home For Thanksgiving. After that, I have a June 2012 release that is part of the Irish Brides continuity from Love Inspired Historicals. Mine is the third book of the series and is titled A Baby Between Them. This book was a departure for me since it was a different time period than I usually work with (1850) and a different location (near Boston). It was a challenging story to write but I enjoyed the interaction with the other two authors in this series and hope I produced a really satisfying story to wrap up the continuity.
What inspired you to write this/these stories?
For the novella, I had written two previous books featuring the Lassiter family. One feature Ry Lassiter, the oldest and the other featured Sadie Lassiter, the youngest. The middle sibling, Griff, was more of a puzzle to me and was living in a different location than the other two. I hadn't originally intended to write his story but when the opportunity came up to participate in this anthology he immediately sprang to mind as the perfect hero.
Any final words of advice or encouragement?
If writing is what you feel led to do, then the best advice I can give you is tor write, write, write and then write some more. That's the best way to learn your craft and to find your voice.
Thanks so much for giving a glimpse of you and your writing life.