COME AND MEET A FELLOW CANADIAN AND FELLOW LOVE INSPIRED AUTHOR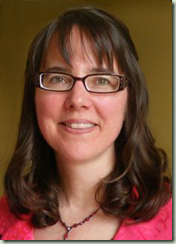 I met Sandra Orchard last year at the American Christian Fiction Writers conference in Indianapolis.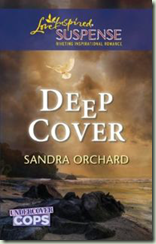 We're both Canadians so had that in common at once (even though we live on opposite sides of the country). We also share a passion for our writing and a determination to learn all we can about the craft. Sandra's first book is now out. Be sure and look for Deep Cover on the shelves. She was kind enough to come to my blog and do an interview.
Sandra Orchard lives in rural Ontario, Canada where inspiration abounds for her romantic suspense novels set in the fictional Niagara town she's created as their backdrop. Married with three grown children, when not writing, she enjoys hanging out with family, brainstorming new stories with fellow writers, and hiking or kayaking in God's beautiful creation. Her debut novel Deep Cover is available in stores for the month of September, and at your favorite online retailers. You can connect with Sandra online at:
her website ~ www.SandraOrchard.com
her personal blog ~ http://www.SandraOrchard.blogspot.com
her Facebook Page ~ www.Facebook.com/SandraOrchard
Book blurb:
Maintaining his cover cost undercover cop Rick Gray the woman he loved. Sweet Ginny Bryson never really knew Rick. He never gave her the chance. Not then, and not now, when he's back with a new alias to gather evidence against Ginny's uncle. The man's crimes led to Rick's partner's death, and Rick wants justice to be served. But his investigation is stirring up trouble, and Ginny is smack-dab in the middle. Someone wants Ginny to pay the price for what her uncle has done. But how can Rick protect her without blowing his cover, jeopardizing his assignment…and risking both their lives?
How did you become interested in writing romantic suspense?
By reading Dee Henderson's O'Malley series. I loved it. I love the extra plot elements and faster pace of the typical suspense. I'd been a Steeplehill book club member for a few years, so when they launched the Love Inspired Suspense line, I signed up from the first release. I realize now that many of my favorite titles from the straight romance line were those with strong suspense elements. Naturally, I soon gravitated to those types of stories in my own writing, and enjoy the challenge of balancing the extra thread without sacrificing the romance.
Have you drawn on any of your own life or interests in the novel or done any special research that might interest readers?
In the story, the hero is posing as a foreman on the construction site for a group home. A group home the heroine's mentally-challenged sister will call home. Since I am an avid "Jill of all Trades", having done everything from siding and roofing to plumbing and finish work, I drew on a lot of my own construction experience in the group home details.
The idea to use a group home came to me after a Christian Horizons spokesperson shared at our church about their work with the mentally-challenged and how much their clients enjoyed being involved in church activities. Before I left church that day, my Lori character had already begun to form in my mind. I wanted to show her being included in the church's worship team as an example of the enthusiastic contribution everyone can make, no matter what their circumstances. I was blessed to have Margaret Daley critique the opening of my manuscript at an ACFW conference. She taught special needs youth for years, and kindly read every scene that included Lori to ensure I gave accurate depictions.
I was also privileged to be able to attend a Writers' Police Academy where I learned—and experienced, hands on—a wealth of the little, but significant details that make a cop story come alive. By that time, Deep Cover had already been written, but fortunately I was able to add some details in revisions.
What's your favorite part of being a published?
Hearing from readers. My dream has always been to touch readers' hearts through my stories with the message of God's love for them. I love to hear how readers have related to the story.
What valuable lessons did you learn on your journey to publication?
I learned that God could use my writing whether I was published or not. My perseverance through rejection taught my children valuable lessons. As well, God gave me opportunities to build relationships with several aspiring writers who didn't know Him. Many times they've asked me to pray for them, they've read my manuscripts, because of our shared interest in writing, and God is touching their hearts.
What do you know now you wish you'd known then that you know now?
Learning is always a process. We can't know it all at once. I still have much to learn and that's the fun and challenge or writing. I guess the one thing I would have done differently was concentrate on writing for Love Inspired rather than try to write novels that would straddle the fence between single title and category length. But ultimately, God's timing with regards to contracts has been perfect.
Do you have any future inspirational romantic suspense titles that readers can look forward to?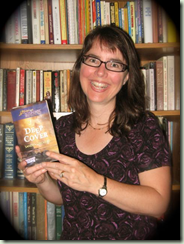 Deep Cover is the first book in the series, Undercover Cops: Fighting for justice puts their lives—and hearts—on the line.
Book 2 ~ Shades of Truth ~ March 2012
A compassionate youth worker fighting to preserve her dying father's legacy battles the justice-driven detective who threatens her mission and her heart.
Book 3 ~ Dose of Deception ~ TBA (title tentative)
A nurse. An undercover cop. A killer who'll stop at nothing to avoid being caught.
Sandra, thanks for the great interview.