2010–off to an uncertain start
Christmas is over and it was lovely. Time spent with family, enjoying babies and growing grandchildren.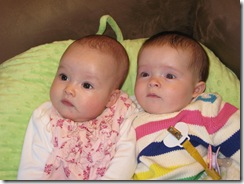 Here's the two little girls watching a toy. They are getting so big so fast.
The cold weather made for some beautiful scenery.And the heavy snow fall was great for building tunnels.
The new year is over a week old and I made some resolutions or as I prefer to call them, goals. I need to adjust my life to a better course.
I am determined to do is be more organized and balanced. Seeing as I never even managed to blog last week the organized part is not off to a blazing start. But I will continue to aim for that. Perhaps I'll post some of my lessons.
Balance? I know it's there. I see it every time I swing by. I just don't know how to achieve it. Perhaps FEELING  organized is one way to find balance–living purposefully, knowing my priorities instead of responding to the urgent. I'll let you know how it works out for me.
Oh yes, Diet. This year, instead of determining to lose weight I am committing to a year of eating well, and exercising regularly. Good luck to me.
In the meantime, I am enjoying re-reading a couple of books by one of my favorite authors–Elizabeth Berg. I just finished True to Form. I suppose you might call it a coming of age story but it is not typical. It's so much more. A child who sees life with a very mature, but growing, point of view. What I really like about EB books is the way she captures life in such rich detail. I feel like I've jumped into the deep end of life and see things I've never before noticed. Perhaps seeing life through a kaleidoscope–richer, fuller, more colorful. If you've never read Elizabeth Berg, give her a try. Or re-read an old favorite.