For some reason a recent discussion on one of my writers' loops focused on desks. Perhaps because with Christmas approaching, there were those who hoped for new desks, or new chairs.
I found the discussion interesting.
There was a woman who had been moved from her office because of a leak that ruined one wall. She went to the partially converted garage which would one day become their extra family room. However, it wasn't finished and as cold weather approached she had to move indoors and set up shop in the living room.
Another worked out of a credenza in the living room with the big screen TV close by.
A third told how her first office was a former 10 foot  X 10 foot bedroom. She outgrew it and they built a room over the garage. That information puzzled me. How do you outgrow a room? Does your computer get bigger? I thought they were getting smaller? And how much money does she make writing that she could afford to build an addition? A lot more than me!!
Some posted pictures of their desk, workspaces and work areas. Wow. I couldn't believe it. They were so neat. Totally unlike the condition of my office at the time. Have a look.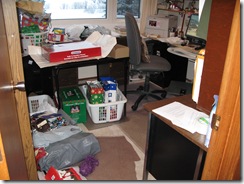 My room is 10 X 10. It serves as both writing area, farm business area and every other type of work area. This is Christmas present wrapping in progress.
This is my current background picture on the computer screen. A picture of Alaska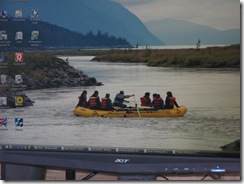 as I work on my Alaska story. And a stack of research books and notes.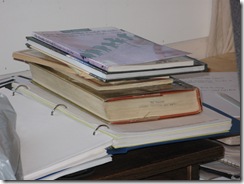 This is the timer I have to use, at times, to make myself work.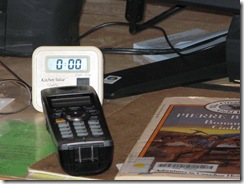 I set it for 15 to 30 minutes and force myself to type until the timer goes off. Or the phone rings. Or someone comes to the door. (Whichever comes first!!)
So my question still is, who outgrows an office? (At least I have one and don't have to try and work in the living room.) And who can afford a big addition? (I can GUARANTEE she didn't pay for it with her writing money. And if she did I gotta ask, hasn't she anything more fun to do with that money? Like travel? Buy more books? Whatever?)
PS. The mess is almost cleaned up as we celebrate the family Christmas get-together today.