A winter storm blew in yesterday. And it's still blowing. There's something about a snow storm that makes me particularly grateful for a nice warm house. The roads have been terrible. Visibility is poor. Very poor. The main highway (QE2) has been closed off and on all day. This is what we saw when we opened our door this morning.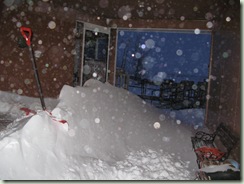 I was trying to think of the worst storm I remember but what stands out in my mind is the winter the roads were closed much of the time. We went to town on snowmobile for weeks. My husband and oldest son and daughter rode on the snowmobile. My younger son and I rode on a sleigh towed behind and by the time we arrived in town five miles I was plastered with snow.
There are some great pictures of snow storms on this site.
http://nsidc.org/snow/gallery/index.html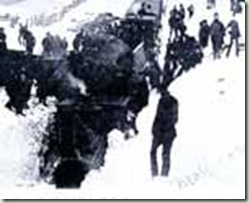 That's a train they're looking down on and wondering how to dig it out.
I always thought snow flakes, though no two alike, were somewhat similar. Not so according to this site which say, "If you look closely at falling snow, you can see a great many different crystal shapes.  There's a lot more to see than you might think!" After glancing at the information, I decided there is more about snowflakes than I ever wanted to know.
http://www.its.caltech.edu/~atomic/snowcrystals/class/class.htm
Remember folding and cutting paper to make snowflakes? Snowflakes are 6 sided so you have to folded a sheet of paper in half then thirds.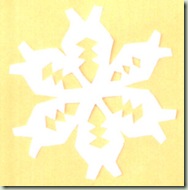 In case you've forgotten how to do it, here are instructions:
http://highhopes.com/snowflakes.html
And here are a few pictures taken in the 50s. Just to show that this kind of weather is nothing new.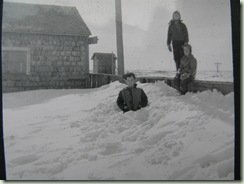 I remember climbing the fence and jumping into this bank of snow. We wore only woollen clothes so you can imagine how wet we got.
So enjoy the snow. Build memories to share when you're old enough to smack your gums and say to your grandchildren, "I remember the blizzard of '09. Why we had a drift as high as my head right outside the door. It took us days to shovel out. "