Yes, we've had a lot of snow. It's impossible to say how much because it's blown into drifts. But here is a picture of the planters on the wheelchair ramp where snow is a mushroom cap. Doesn't it look like a Hallmark card?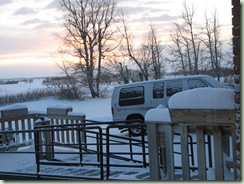 Mind you, I don't like it quite so much when I get stuck in it as I have.
The drifts are deep. Here is a drift by our trees. I suppose it is close to six feet high.
Again, it's pretty to look at.
I suppose it's all in how you view snow as to whether or not you enjoy it. Shoveling a hundred yard driveway is different than looking out the window.
Sunshine is delicious, rain is refreshing, wind braces us up, snow is exhilarating; there is really no such thing as bad weather, only different kinds of good weather.  ~John Ruskin
There is no season such delight can bring
As summer, autumn, winter and the spring.
~William Browne
Snowflakes are kisses from heaven.  ~Author Unknown
Snowmen fall from heaven… unassembled.  ~Author Unknown
Or as one person says, When it snows you have two choices: shovel or make snow angels.
I'll add a third choice: stay indoors as much as possible and enjoy the view.
Here's my view.