A GIANT SLEEPOVER OR WINTER COMES.
We often celebrate Thanksgiving twice. Once in October for the Canadian Thanksgiving and then again in November if we have family visiting us from south of the border.  Such was the case this year.
We began the weekend on Thurs. with a wiener roast. Our turkey dinner was slated for Friday to accommodate those who had to work.  The weather was balmy and pleasant. Not a flake of snow or drop of rain. Dry ground. Drifting leaves. Cats romping about.
Some of the family decided to stay over Thurs. night. We have one spare room which was already occupied so we put up inflatable bed wherever we could squeeze in one. Someone slept on a foamy in the laundry room. Someone slept next to the freezer on a mattress. It was…cozy, shall we say.
We woke to snow. Heavy, wet snow which turned to ice as soon as a vehicle drove on it. Snow fell heavily until mid afternoon. The streets and highways were well iced by then. The Queen Elizabeth II highway was shut down with a 50-60 car pileup. The trip from Calgary (normally an hour to an hour and a half) took 4 1/2 hours.
The birthday girl had to stay in the city by herself while the rest of us ate turkey. Sorry you couldn't make it, Tania.
The roads were too treacherous to travel on so everyone stayed another night. No one complained about the crowding. In fact, it was kind of fun. We were warm and dry. We had lots of food. And good company.  Lots of people to hold the two baby girls. Here is a picture of them enjoying each other. Haedyn is checking out Anastasia's ear. She also pulled her hair and tried to get some action out of her cousin.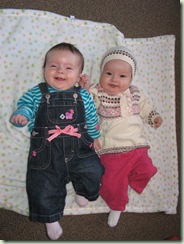 It was a great weekend and made me realize again how blessed we are with family, conveniences, food, water, heat, homes, etc. I could go on and on but consider just one thing we take for granted–water. We showered, bathed, flushed toilets, did laundry, made number pots of coffee, drank lots of water and likely never once gave a thought to the fact much of the world does not enjoy a super abundance of safe, clean water.
So today, I am going to consciously give thanks for water. (As I wash 4 loads of sheets, 3 loads of towels and enjoy another cup of coffee.)
Which brings me to another thought about water. How satisfying it is. How necessary. We have also a spiritual need for refreshing, cleansing water. In John chapter four, verse ten, Jesus says he will be to us living water that satisfies.
How blessed we are to have satisfying, abu
ndant water at our disposal.