As an author I am expected to love books and I do. I happen to know where the library is in most towns I visit. It isn't usual for me to stroll through them just to admire all the titles. And a book sale is a delight. The library here has an annual one which I hate to miss. Storing them is a different matter. Apart from lining every wall with bookcases it seems I have no choice but to limit the number of books I keep.
But I love paper just as much. As a child I collected all the form letters and interesting fliers that came to the door. Catalogues displaying books were (and are) the best.
So combining books and paper in a new way fascinates me.
1.Altered books.
An illustration from this site http://karenswhimsy.com/altered-books/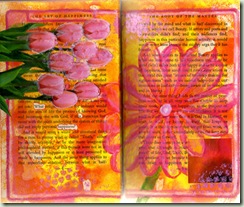 2.Blank pages.
Blank paper invites something–a word, a drawing, a slash of color, ideas, maps, etc. An aisle of blank notebooks is full of wonderful possibilities. Some by their very quality shout for high and noble thoughts. Others for doodling.
'MOLESKINE is the legendary notebook that has held the inspirations and ideas of everyone from Van Gogh, Picasso and Hemingway to famed author, Bruce Chatwin. Artists, authors, and geniuses of all variety have long appreciated the simplicity and superior functionality of these notebooks.'
  They definitely, by association, call for works of genius which is probably why the pages on my moleskine are, for the most part, still blank. Check out what they have to offer here.http://www.moleskines.com/
For the finest in stationary products there is Levenger. (Drool. Drool) They have a great system of creating notebooks. Check it out.
 http://www.levenger.com/PAGETEMPLATES/NAVIGATION/PRDPREVIEW.ASP?Params=category=326-339|level=2-3 
Be sure to go to the side bar and go through the learn more-how to pages. Fascinating.
3. Fascinating journals.
Here's a site that allows you to download for free a 26-page document for creating a journal. http://www.aisling.net/journaling/free-ebook-jyp.htm
This book gives ideas on how to journal and decorate a page at the same time.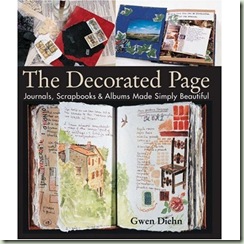 The Decorated Page: Journals, Scrapbooks & Albums Made Simply Beautiful (Paperback)
by Gwen Diehn (available on Amazon. com)
Journals written by settlers and early ranchers have proven invaluable for my research. I've been able to photocopy or print many of these and love getting them coil bound at Staples so they are like a real book. It's great for reading and  making notes in the margin.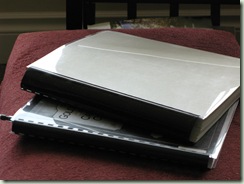 But the best combination of paper product is a brand new book with my name on the cover. Yesterday I got a shipment of my book that is due out mid-September.
Enjoy the cover and watch for the book on the shelves on get it from on-line sites.