It wasn't all fun and sunshine while we lived on the road in a bunkhouse. Sometimes it rained. Try and imagine 3 young children, a teenager or two and at least one parent crammed into very tight quarters. For the most part, the younger children remained on the bunk beds and had to amuse themselves there. There was no TV. No power. But there were books. We learned to read a lot. There were crayons and coloring books. I don't think kids today know the passion we had for coloring books. Some of the pictures were scenes that, with careful coloring, could almost pass for a painting.
My patient mother also taught me to knit and embroider. Remember I was perhaps 6 or 7 at the time.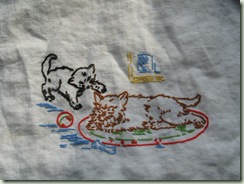 Here is something I did on a linen tea towel. I suddenly realize that I never taught any of my girls to do this. For years, such handiwork has been neglected. I wonder if it will make a comeback at some time. Perhaps life has gotten too busy. Strange to realize that all our time-saving conveniences has not given us more time to do such things.  I admire people who still knit, crochet, embroider and/or make quilts that become works of art.  My belief is that everyone has a need for creativity whether it is writing a book or setting an attractive table, whether it is painting a picture or decorating a room.
Albert Einstein said, 'The intuitive mind is a sacred gift and the rational mind is a faithful servant. We have created a society that honors the servant and has forgotten the gift.'
Perhaps we need to honor the gift more. 
'Happiness is not in the mere possession of money; it lies in the joy of achievement, in the thrill of creative effort.' (Franklin D. Roosevelt)
How can we honor our God-given creativity?
I leave the answer for you to find.
Picture take from http://www.christianwomenonline.net/scripturetags.html