MY FAVORITE BOOK OF ALL TIME.
Today I would like to tell you about my all time favorite book. I have read it probably a thousand times and still enjoy reading it.
It's called The Piggy In The Puddle, written  by Charlotte Pomerantz (Author), James Marshall (Illustrator)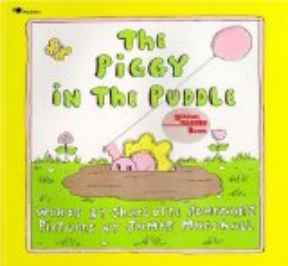 (Available on Amazon and other fine on-line bookstores)
See the piggy,
See the puddle,
See the muddy little puddle.
See the piggy in the middle
Of the muddy little puddle.
Thus begins the book that is good clean fun. LOL. Someone has described it as read aloud popcorn. What a great description of this fun story of a piggy in a puddle. Me oh my. What's a father pig to do?
I have read this book to most of my kids and all my grandkids. I love reading it. The words roll off the tip of your tongue like honey.
My kids all love it. In fact, my twenty-seven-year-old son saw it recently after I'd read it to some of my grandkids and said it was an awesome book. The best book ever. I totally agree. Check it out. Better yet, buy it for a child, a grandchild, a neice or nephew or neighborhood kid. Buy it and donate it to your local library.
In my opinion, no child (and perhaps, no adult) should miss out on this wonderful reading/listening experience.
 Anyone else have a favorite book?