A history lesson on books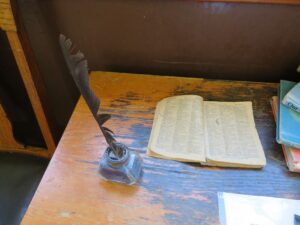 Talking about books—and weren't we? —makes me think how things have changed. I think of books going from scrolls that were read in the temple to books being hand copied by monks to the invention of the printing press and now? E-books, free books, libraries galore.
Can you imagine living when books weren't unavailable? Even when there were books to be had, the pioneers were limited in what they could find which was usually a small collection shared amongst neighbors. Compare that to my childhood when I went to the pubic library and brought home a dozen books at a time.
As I said, it got me to thinking. So I researched more about books (information that is readily available, thanks to Google, etc.)
To have a book you need something to write on. Apparently the Chinese were the first to create a product by using a number of things including mulberries, hemp, bark and even fish to form a big pulp, that could be pressed and dried to form paper. Or maybe it was the Egyptians and the paper they made out of the papyrus plant.
Hand written texts were copied by monks and then someone realized they could carve every letter backwards on wood, use ink and stamp the words on paper.
Then Johannes Gutenberg invented the printing press making possible mass production of printed material. Thank you, Mr. Gutenberg.
Now we have digital books. Print-on-demand. And an endless supply of reading material to select from. What an age we live in.
I read somewhere that books are one of the most important inventions of all time and I tend to agree. We have the Bible in our language and in our own homes. What a blessing. We learn about our world, we are uplifted and entertained through the power of the written word.
You can get the series here:
Glory, Montana (10 book series) Kindle Edition (amazon.com)