I'm one of those people who considered my writing to be a gift.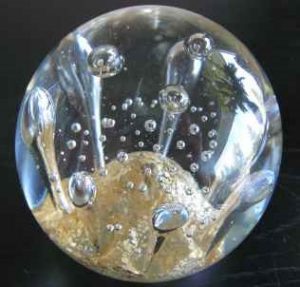 This glass paperweight is how I see the gift of story– a beautiful object that defies description.
A wonderful book that made me realize the value of this gift is WRESTLING WITH YOUR ANGELS: A SPIRITUAL JOURNEY TO GREAT WRITING by Janet O. Hagberg.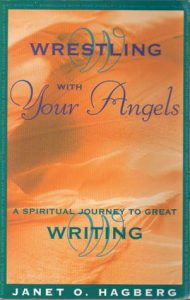 As a gift given to me, I try to do it justice-honor it- by learning craft, using all the tools at my disposal and generally doing the best I can as I write. I don't often think about the fact that not everyone wants to, likes to or can write. It's just part of who I am. I haven't always written my stories down but I have always made them up for my own enjoyment. I can remember as a child sitting in the branches of a maple tree in our yard and creating imaginary worlds.
But I have learned to appreciate the gifts my writing has given me.
First, writing is my escape. No matter how crazy my life is, how unreasonable the people in my house are acting, my writing has been a place where I could find sanity, order and control. I can disappear into my imaginary world and enjoy myself. Never mind the dreadful things certain people are saying or demanding in my real world. I love this gift from my writing.
Secondly, writing has given me characters who act and react, who love and respond in ways I have found foreign to how I want to act. In other words, through my characters, I am learning different and, hopefully, better ways of being me. For instance, I deal with a grown child who is acting like an emancipated four year old. I want to scream and rage. But instead, I remember a character I've created who deals with difficult situations with grace and kindness and even finds the right words to say, the right questions to ask. And I suddenly know how to behave better. Or I am buffeted on every side by demands (unreasonable ones many times) and feeling out of control and then I remember another character who manages to find humor is similar situations and suddenly I find I can too. Or life throws me one of those wicked curve balls. It seems to be too much. Again, a character who turned to faith and trust in her difficult circumstances reminds me I, too, can do so.
Maybe I write the characters I wish I could be. And in doing so I learn a little more about how to be such.
When I think about it, writing is a wonderful gift. And if my stories end up encouraging or helping a reader, I am doubly blessed.