There was a man with a plan—to get back the money stolen from his boss and earn the reward. The robber's widow was the obvious place to find it. That would make it easy to get back. Right? I mean, how hard could it be to locate one woman, watch her to learn where she'd hidden the money then demand it be returned?
Life had other plans for this man. First, he discovers two orphaned children who attach themselves to him like glue. He finds the widow only to see she has a child of her own to raise. Not only that, she has her hands full and needs help.
Things are getting a whole lot more complicated than he'd anticipated especially when his heart is telling him something quite different from what his head is saying. What is going to happen to his plan?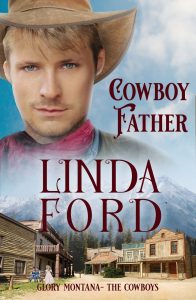 You can read Ethan and Adele's story in Cowboy Father. It will be released June 1, 2019 or you can preorder it and have it delivered automatically on release day. It's a story I think you'll enjoy.
This is the link to the book: https://tinyurl.com/y5g2brrh
This is a continuation of the Glory, Montana series and the Kinsley family.