Much–if not all–of fiction has its roots in the author's own experience. For instance, my husband tells how few toys he had. A broken wagon, one jigsaw puzzle that he made so often he had it memorized so he could even make it with the pieces upside down. His favorite activity was playing farmer with rocks, marbles, sticks and whatever else his imagination could turn into what he needed. Incidentally, I have children who did the same with marbles and Lego pieces.
Another toy that children enjoyed in those early days was a rag doll. I know the rag dolls of yesteryears wouldn't wear neon green but I couldn't find a picture I liked any better. This doll is simple. All play would be imagined by the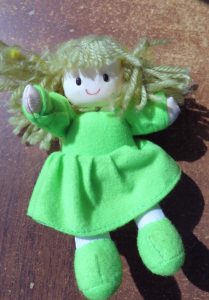 child. When I was young my mother made me a baby-sized doll with movable limbs. It was the right size to wear baby clothes. I loved it and spent hours playing with it. I don't know what eventually happened to it. Nor have I been able to find a picture of it.
I'm sure the adults didn't consider laundry to be a fun activity when they had to scrub everything on a wash board. My father-in-law was widowed at a young age with a large family.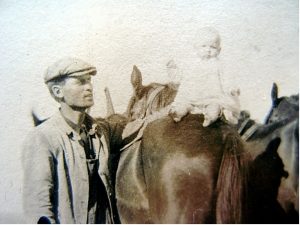 One of the most poignant pictures I recall seeing is of him bending over a tub of water, scrubbing the baby's diapers on a scrub board. Unfortunately, the photo has disappeared but this is a picture of him with one of his children.
In Cowboy Father, you'll get a glimpse of how those brave men and women.. and children…survived life in the 1800s. Cowboy Father tells the story of a man and a woman and two children who strive together in challenging circumstances toward a common goal. But the goal isn't romance. In fact, romance is not in their plans. This book continues the story of the Kinsley family of Glory, Montana. It is available now.