I have some new books out.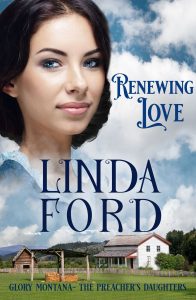 Renewing Love is the third The Preacher's Daughters story. Cole Carter had loved Eve, but knew she wouldn't choose him over her family. When she arrives to help with his mother and aunt, he is forced to accept her help temporarily. Only she is even more beautiful and desirable then she was two years ago and brings light and joy to his home. Eve spends much time tending the garden on the ranch where she had gone to work. From her place in the garden, she sees something mysterious. What is it? You can find out by reading her story. Available now.



A Love to Have and Hold, the fourth story in The Preacher's Daughters series releases May 1. Josie Kinsley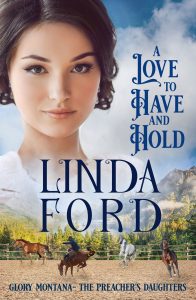 was adopted when she was twelve. There are things in her past she doesn't want anyone to know, things that drive her to seek security. She only wants to be a self-sufficient, independent young woman. She refuses the interest of the many cowboys who enter the home.
Walker Jones's family was broken up when he was a kid. He has no use for secrets. He ends up at the Kinsley home when he is robbed and pistol whipped. He overhears Josie telling someone that if she ever married, it would not be a homeless, penniless cowboy. Which is exactly what he is. And the very reason a former love interest refused him.
Both Josie and Walker know the other person is not what they need. Walker senses Josie harbors a secret. And yet, as they spend time together, he is attracted to her strong spirit and her loyalty to her adopted family. Josie sees in him a man who is hard working, kind, and fun to be with. But he is a wanderer and she wants a permanent home.
Will the truth destroy their growing affection or will they learn that it is not the past that matters but what the future promises? Available for preorder now.
This is the last of The Preacher's Daughters but not the last of stories in the Glory, Montana series. Watched for more titles in the coming months.
Last but not least, I have a novella in the collection Mail-Order Mishaps. A real book. lol.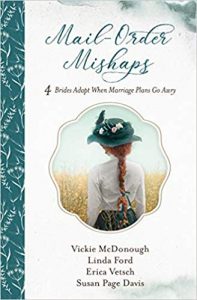 Here is a review by an early reader:
Great book about using the situations God puts you in for good 🙂
The fisrt story in this book is about a bride who steps off the trail and finds her soon to be husband in jail. Definitely a mishap. I loved how the lead character wasn't afraid to help and go out of her comfort zone.
The second book is one of my favorite book in the series. Its about a young couple set upon by a matchmaker. A wonderful about healing families.
The third book is about a bride who was tricked and had to make her way again, a great story.
Finally the forth book, what a lovely way to end a series!!! A fiery Irish red head who needs to escape her situation and uses the opportunity God gave her to escape. When she gets there she meets a Swedish man …. so cool.
I would highly recommend reading this book 🙂
This book releases May 1 but is available for preorder. https://tinyurl.com/y2995p2t