It's been a brutal Feb. and it continues into March. The weather people are saying it was the 4th coldest Feb. on record. What? Wait. You mean there were three colder Feb.? Brr. Many days it's been too cold to go out for a walk. Even the cat, who loves being outdoors, barely sticks his nose out. He's getting bored. So bored he's making up games.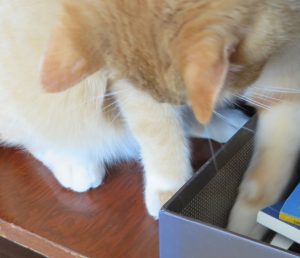 He's found a paper clip in the box and fishes it out, drops in on the shelf, chases it around a bit them puts in back in the box and repeats it. Oh, and he sits in front of my office window watching the birds at the feeder and making eager sounds.
Speaking of birds, the most active in the cold weather is the tiny little chickadees.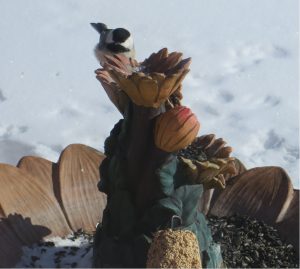 Every time I see them out there, I am amazed. How do they survive such cold temperatures?
It's less than three weeks until spring officially arrives. Would someone please notify winter?