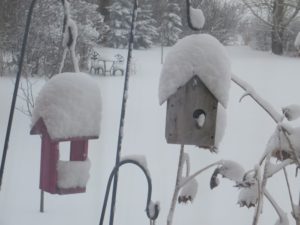 I love snow. I love how it creates a white canvas and then like an invisible hand is finger painting, it is pulled into drifts in the corners, dribbled on the evergreen trees and dotted on every fence post. I love how it blankets the gardens and lawns and warns us 'Do Not Disturb Until Spring.' A warning I gladly obey.
I love walking in the snow–how it crunches under foot. How it tickles my nose when it is falling. How it mutes the sounds and gives the landscape a filtered look.
Poets have penned lots of words about snow. Not all extol the virtues of it, of course. Here is a good one:
Poet: Ogden Nash
Winter is the king of showmen,
Turning tree stumps into snow men,
And houses into birthday cakes,
And spreading sugar over lakes.
Smooth and clean and frosty white,
The world looks good enough to bite.
That's the season to be young
Catching snowflakes on your tongue.
Snow is snowy when it's snowing
I'm sorry it's slushy when it's going.
I don't know what you think of snow but why not enjoy it?
BTW if you haven't signed up for my newsletter, now is a good time. I will be making announcements soon. All you have to do is click the button to the left of this blog or send the subscribe form.