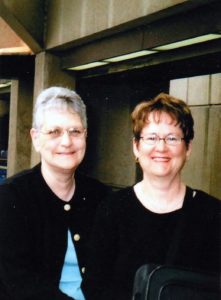 I have a sister. She is eight years older than I am. As children, it was a big difference. While I was interested in dolls, she was interested in boys. So my memories of those early years are sketchy. I do remember how she saved foil wrappers from candy (of which we had very little) for months so that at Easter she wrapped our Easter candy in gold and silver foil and hid it outside. It was a year that was sunny, warm, and dry and it was such fun to find the little treasures.
As we became adults, the age difference meant less and less. We found we had much in common, not the least is shared family memories. She was the one who helped me move my parents into a seniors facility. We went through their belongings and dealt with a lifetime of stuff. It was like a trip into our childhood. She helped with their care as well, even to living with my dad for a period of time after my mom was placed in a nursing home.
We also did a number of trips together–Paris, London and research trips to Montana and the Dakotas. Such fun we had. So many memories.
My sister lives a 12-hour drive away. A long way. I see her so seldom and often in busy family situations. But I am about to change that. I am going to visit her. I'm not driving but taking an airplane.
We won't be wrapping candy, taking care of parents, or traveling for either pleasure or research. But we will be making more memories and rehashing the old ones. It will be our own sister act.