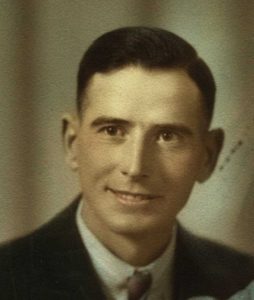 A picture of my dad when he married my mother.
My dad has been gone for 15 years yet I often think of things he said and did. I often repeat what he said about me being so short. 'As long as you're tall enough to reach your teeth to brush them.' Or 'Small things come in small packages.' He would wait a minute and then add, 'Then so does dynamite and poison.' Of course, he always said it with a smile.
Some of my favorite memories are studying the stars with him. It seemed he knew the names of all the constellations. Exploring for fossils. Camping by the Red Deer River and crossing the ferry with him. Riding in the grader with him as he repaired roads. Visiting museums on our travels, and the stories he told about the past. He'd come to Alberta as a young boy and settled in one of the driest parts of the province. He often said there were two good years of farming there–1916 and next year. And who can forget the long, dusty drive to Hay River in the Northwest Territories. I believe it was the last long trip I took with my parents. That fall as I returned to school, I wrote the traditional 'What did you do in the summer?' essay. I remember I got top marks for the descriptive way I told of our trip. Looking back, I think that was the first time I thought of being a writer.
A special memory is the series of sermons my father did teaching how every detail of the Old Testament tabernacle portrayed a truth about our faith.
Such wonderful memories. I hope all of you have sweet memories of times spent with your father. If you are still able, make some more memories today.