In my dream, a pregnant woman was running. She was lost and alone and her strength almost gone. She fell to the side of the road. Thinking…fearing she would die alone, she called out to God for help. Please save my baby. A wagon rumbled down the road. She tried to lift an arm to signal for help, but she didn't have the strength. The wagon stopped, strong arms lifted her into the wagon, held refreshing water to her lips. A few minutes later they arrived in a town and she was taken to a boarding house. Her rescuer took her to the door and arranged for her care. When the woman turned to thank the man, he was gone. So was his wagon. As if they had never existed. That woman is the mother of the heroine in my book, Chastity's Angel. Her mother has always believed she was rescued by an angel in response to her cry to God. It's a story Chastity has heard over and over.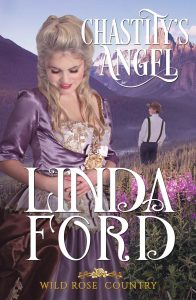 Can an angel be the one to help Chastity? Would she know if she met one?
This is a love story with an unusual twist to it. 
http://tinyurl.com/y9aqlnrr
Comment from a reader: I certainly enjoyed this book.
I just could not put it down.
Certainly a page turner. Kept me very interested. 
And another reader: A must read for those who enjoy historical western romance, from a delightful author who keeps me wondering what next for the characters. Very enjoyable.