LISTENING TO THE SOUND OF SILENCE
It is still dark when I go for my early morning walk.
This picture was taken as dawn broke at the end of my walk.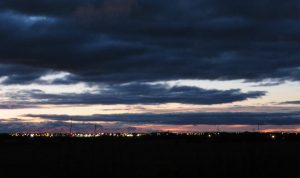 The lights of town are a shining necklace along the horizon. The sky is studded with stars. Today I saw a falling star. I am reminded of a song I learned long ago:
My God is so great, so strong and so mighty
There's nothing my God cannot do
The mountains are his
The rivers are his
The skies are his handy works too
On weekdays, I watch my neighbors leave for work. But on weekends, the silent road is mine. Only it isn't silent. There is the hum of traffic on the highway–the semis and their trailers lit up like horizontal Christmas trees. There is the rat-tat, rat-tat of the overhead power lines which I tell myself is normal. I hear the distant yip of coyotes. The gravel crunches beneath my feet but other than that, I am alone with my thoughts.
I become centered as I pray and plan. I suppose I should nobly say I pray for world peace, but I don't. I pray for peace and guidance for my friends and family. I pray for healing and strength for those who struggle with ill health. I plan my day's activities and return home ready to get to work.
I love my early morning walks. I love listening to the sound of silence and hearing my own thoughts.
Are there special times in your day? Rituals, etc.