Herein lies a story for both writers and non-writers. 
For non-writers, the story is for your enjoyment and amusement.
For writers, you have a living lesson. Goal, motivation and conflict are considered the building blocks of fiction. There are several  types of conflict:
Conflict 1. Man Versus Self. …
Conflict 2. Man Versus Society. …
Conflict 3. Man Versus Man. …
Conflict 4. Man Versus Nature. …
Conflict 5. Man Versus Supernatural.
Last spring I told of the men across the road trying to remove a row of trees. They are back this fall trying again.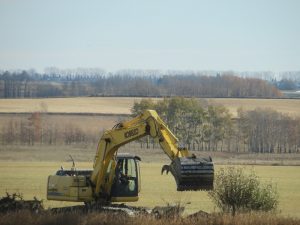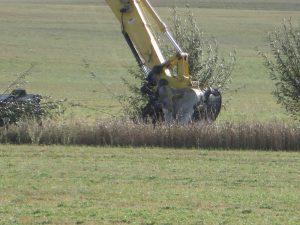 The lesson:
Goal–get rid of trees
Motivation–gain a few more feet of productive land
Conflict–man and machine against nature.They have large machines (which I heard crack and pop in this fight). They have big trucks to haul away the dug up branches and routes. They have determination. But will they win this struggle against nature?
My money is on the trees.