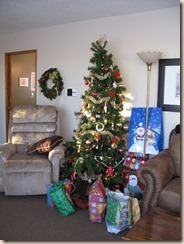 I wanted to tell you a story about long ago Christmases. Perhaps find pictures of the season in my parents' collection of photos. I found nothing. I'm beginning to think their idea of Christmas was much simpler than ours. My father told me there were few gifts. He was the youngest by several years and what he remembers is his older siblings coming home and how one sister made the best fudge. Her reputation was known among the neighbors.
Perhaps we need to get back to a simpler way of celebrating the season…at least, that is my feeling. So my goal for this year is simple but thoughtful. Less presents. More quality time.
Are you doing anything different this year? Celebrating more? Maintaining certain customs? Making changes?