It's time to renew my passport. I have gone so many places with the current one (though not as many as I'd like).
It's probably no surprise that one of my favorite things about travel is visiting museums and I thought I would give you a little sample of the many I've seen.
A nearby museum and one of the rooms. I've actually used this room as a model for a house in one of my stories.
North to Alaska. At least Whitehorse, Yukon. We visited lots of museums. The tour of the paddle wheeler was great. The first class lounge was aA stark contrast to where the economy class passengers spent their time. They were not allowed on the upper decks.
Display at Whitehorse museum where we also saw a cabin where Robert Service lived.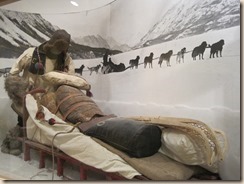 A trip on the famous Whitepass Railway.
Museums to the south—Colorado: Lots of great museums. And Bents Old Fort. Did you notice the three dollar bill?
Last but not least—Hawaii. Yes, even in Hawaii I visit museums. Whaling and protestant missionaries made a big impact on the islands.
In 1898 the Hawaii flag to the left was lowered and replaced with the American flag when Hawaii became a territory of the USA.
Do you visit museums? What is your favorite past of doing so and have you made a surprising discovery?