Am I the only person who takes pictures of the sky? Who has a picture file named 'sky'? Who loves to watch a storm?
From sunrise:
To sunset: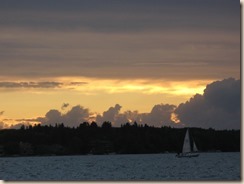 From rainbow to sunbow:
From clouds in a blue sky:
To stormy skies:
From Chinook arch (and no it isn't a sign of global warning) to the sun peeking through:
These are some of my favorites but perhaps the last is one that relates most to my writing. As I start a new book, I need the light to break through and reveal the characters' secrets.
But more than that, when I see the sun shining through like that it makes me think of the theme of my very first published book, The Sun Still Shines, which is that God's love is always there even when we can't see it. Just as the sun is shining even when we can't see it. But we get glimpses of God's love peaking through in beautiful and surprising ways when we watch for it. My prayer is that all of us will look for and receive those glimpses and that I will be able to portray them in my stories.
I'd love to hear of your special moments when you saw this in your life.