There are times when I think I would like a longer week. Perhaps an extra day tucked away somewhere between Saturday and Sunday. My hope would be that I could finally get everything done I need to do in a week.
But recently I realized I had a ten-day week in the book I am working on. I knew my characters didn't need that long a week. I knew my editor would object and I would get all sort of letters and reviews pointing out the impossibility of it. So back to chapter one and find a way to fix it.
A little help was most welcome.
Though I thought he could show a little less boredom.
I was grateful to get a box of books this week to remind me that I can figure out a story.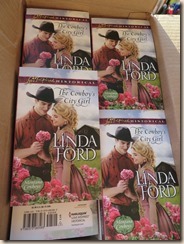 This is one of my favorite covers. I love the pose of the hero and heroine and the pink flowers. What do you think? What sort of covers do you prefer?