I know people who like to redecorate. I call it recreational painting. I don't like it. I don't like the mess, the decisions, the money. But at some point it must be done. Like the basement. The walls were dismantled a year and a half ago to do some much-needed work to take care of a water problem. That's fixed. However. the walls aren't.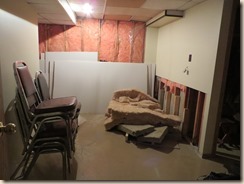 And of course, it isn't as simple as fixing the walls. Of course not. The ceiling tiles are in terrible shape. Replace them. The light fixtures don't work. Replace them. And the walls. Oh my. The walls. Can we say outdated?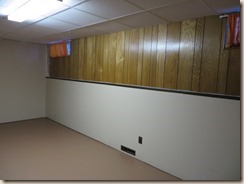 So get that done too. Here's a sneak peak of the new walls. An improvement. Yes?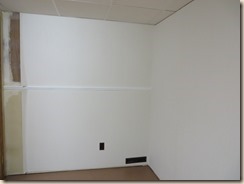 This week I got a revision letter from my editor and I couldn't help compare the two events. What might appear on the surface of my story to be an easy fix will be like the basement renos and involve a whole lot more work than one might anticipate and it will be messy and time consuming. I am trying to convince myself that, just like the basement renos, it will be worth it in the end but so far I haven't quite succeeded. One good thing, at least I don't have to pay someone to do my revisions…unless there is someone out there who will do it for a few dollars… anyone? You sure? It might be fun. Come on. Where's your sense of adventure?
Oh very well. If that's the way you feel. I'll be like the Little Red Hen and do it myself. But don't say I didn't give you the opportunity,