SEVEN BRIDES FOR SEVEN BROTHERS
Last night I attended a musical play put on by the local high school.

This is the picture presented on the website of the Performing Arts Center. Set in 1850 Oregon Territory, I knew I must attend this performance.
The Story (taken from the program):
In 1850, in the Oregon Territory, Adam Pontipee comes to town to trade supplies and find a wife. When he meets the strong, hard-working Milly in a restaurant, he proposes to her. Milly agrees to marry Adam, expecting to have her own place "with only one man to care for."
However, when they arrive at the distant farm, she learns that Adam is the eldest of seven unsophisticated and unruly brothers. Milly takes it upon herself to educate the brothers, teaching them hygiene, good manners and how to win somebody's heart.
During the annual town picnic, Mill, Adam and his six brothers go to town and each of his brothers fall in love. However, they have to return to the loneliness of their farm. In the winter, Adam reads Plutarch and tells his brothers about 'The Sabine Women". Then he travels with his brothers to town and they kidnap their beloved girls. When they cross a gorge, they provoke a snow avalanche and block the narrow passage. The suitors and the towns folk must wait until the pass opens in the spring to get up to the farm to "hang those Pontipees from the highest tree", but much happens over the winter.
It's a fun story and well done. One of my favorite lines was 'We'll make those Sabine (they promised it like sobbing) women smile."
I was impressed by the singing, dancing and acting. It was hard to believe these were high school students and had only begun to practice for this performance three months ago.
Here's a glimpse of the actors in the grand finale.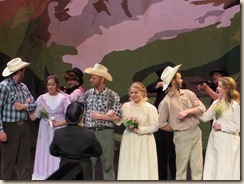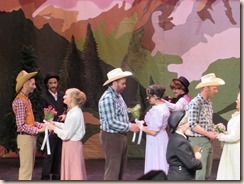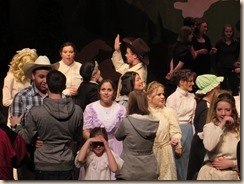 It's all in the name of research and what a fun way to do my job.