PLANTING BULBS AND HOPING
The garden has been harvested. The flower beds mulched and covered in preparation for winter. The leaves have fallen from all but the last few trees. The most color I see is the clusters of red berries on the mountain ash. The snow will soon come and the scene outside will be muted white and greys. I'll miss the colors of the other seasons.
Knowing this I was enticed by the promise of early color in the flower bed.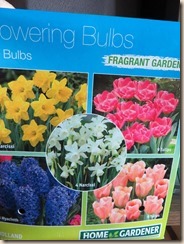 I properly armed myself: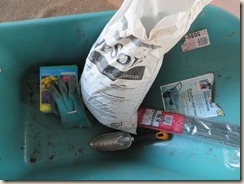 I planted the bulbs in clusters right outside my office window.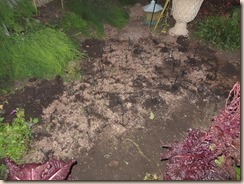 It doesn't look like much right now but next spring I will enjoy some spring color…at least if everything/anything grows. I have faith in what lies beneath.
It's a good thing I can envision something beautiful coming from what is now a patch of dirt because I am working on revisions of a story. At the present, it is only an unshaped mess. The 'bulbs' of the story are there but like I often say to my critique partner, I have to dig deep to uncover them. Then arrange them in a structure that makes sense. It's so much like planting bulbs…digging, planting, arranging except for one significant difference… I have no control over whether or not my efforts at planning for spring color will turn out but I trust my process when it comes to story. I will have a well-structured story in the end if I continue to dig and mulch and patchwork. At least, that is the hope that keeps me going.
I am reminded of these words: I know the price of success: dedication, hard work, and an unremitting devotion to the things you want to see happen. by Frank Lloyd Wright