This week I had a brand new experience. Along with my daughter and 11-year-old granddaughter we went to the Millarville Race Track where we were extras in an episode of Heartland. http://www.cbc.ca/heartland/ For a video of the day go to the blog What A Day!! And it was quite a day. (BTW, can you hear me clapping on the video? lol)
We watched them film 4 little segments from the episode. Each segment was filmed 3 or 4 or 5 times in order to get it exactly as the director wanted it. There was much attention to detail. At one point the audience had to move to fill up a spot where the sun was reflecting off the aluminum bleachers. Several times we had to mime clap so as not to interfere with the other sounds they wanted to capture.
It was interesting and informative. The episode airs Oct. 18.
I'll share some pictures.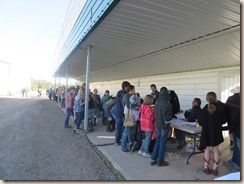 PEOPLE LINING UP TO GET IN.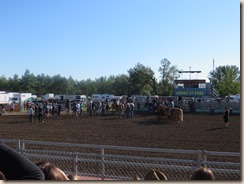 SO MANY PEOPLE INVOLVED IN MAKING A SCENE.
THE GROUND'S MAN CONTINUALLY RAKED THE ARENA TO MAKE IT LOOK FRESH AND THE DOG ON THE SET TRIED TO HELP. LOL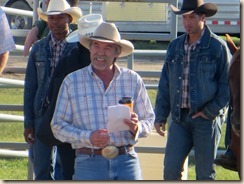 GRANDPA JACK—LOOKS TO ME LIKE HE'S WORKING ON HIS LINES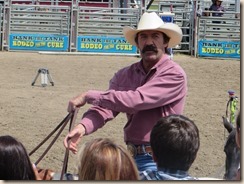 AND A YOUNGER JACK FOR A FLASHBACK SCENE. I UNDERSTAND THIS YOUNGER JACK IS CLOSER TO HIS REAL AGE.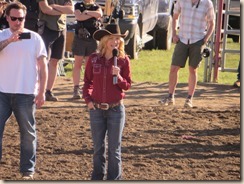 CASEY LOOKING EVER SO GOOD.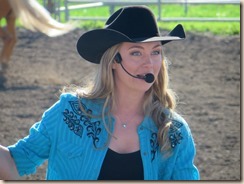 AMY-EVEN PRETTIER IN REAL LIFE THAN ON THE CAMERA AND SO GRACIOUS. SHE TOOK THE TIME TO ANSWER QUESTIONS AND EXPLAIN THE PROCESS AS EACH SCENE WAS SET UP.
GEORGIE—A BIG THANK YOU TO THE GIRL FOR MAKING THE DAY EXTRA SPECIAL FOR MY GRANDDAUGHTER.
Kudos to the entire cast and crew who were gracious hosts and made the day memorable. It was very interesting to see how episodes are filmed but after watching how hard they work I decided I would sooner stay at home and be a writer.